Hi Mamas,
Today we visit Karamell Kuche at Epcot in Germany! Karamell Kuche means caramel kitchen. I know I have mentioned this wonderful place in previous posts but it really deserves its own blog entry. Formerly this location was the home of Glas und Porsellan. I enjoyed that store but I had a little anxiety with the idea of taking children in it. Thankfully, they replaced this store with a store dedicated to everything caramel!
When a new location opens at Disney, there is usually a ribbon cutting with Mickey himself!
As you can see Werthers'(Storck) is a sponsor of this location. They have an entire wall of Werther's packaged candies you can choose from too.
When you walk by the store, you smell the caramel wafting out calling you inside. Upon entering you will see that the chefs are preparing the caramel treats right before your eyes! You might see them making the caramel apples, dipping fruit in caramel, or drizzling caramel on many of the cookies and other treats.
One of the best parts of Karamell Kuche is that a lot of these items count as a snack on your Disney Dining Plan! Score! When you see the purple and white emblem you know it counts on your dining plan.
So you've seen a few of the delicious items-caramel apple oatmeal cookies, caramel chocolate brownies, fruit dipped in chocolate and caramel, cupcakes, and the list goes on. My three favorite treats are :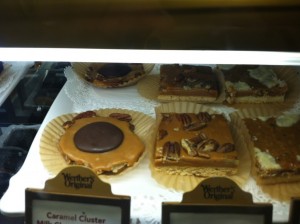 Caramel Cluster, Milk Chocolate, and nuts and the Chewy Caramel Werther's Bar! YUM!
And my other favorite treat is the salted milk chocolate covered caramel! The picture is courtesy of our friends over at the Disney Food Blog.
Every trip since the Karamell Kuche has opened I have purchased one or two of these and taken them back to the room for a late night snack. It practically melts in your mouth.
Remember 2014 packages get released this week on Wednesday July 10th!