Hi Mamas, This week we continue our month of favorites with our favorite place to take a break. No matter which resort we are staying at, my very favorite place to take a break is at our resort. Every resort in every room category has a lot to offer. I have stayed at every level of hotel and not one has disappointed me in what there is to do at the resort. I do recommend a break every single day with the exception of your arrival and departure days.
There's the obvious thing to do on a break- NAP time! Even if your kids are beyond the napping age, sometimes a little down time in the room relaxing is a good thing.Other times our kids play with their souvenirs.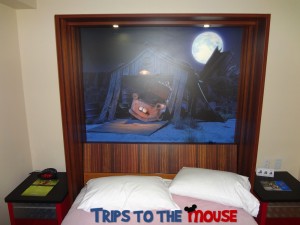 What kiddo wouldn't want to take a nap in Tow Mater's Bed?
Sometimes while our kids are napping we veg out in front of the TV.
If you just need a break from the parks, there's the pool. Every Disney pool is incredible. The moderates and deluxes do offer more as far as slides, etc. But they are all a fun place to spend the afternoon and not even in the same league as your typical hotel pool.
Then there are times when one of the adults needs a break from the kids. Trust me I get that! My husband and I take turns on our trips. If one of us needs a mommy or daddy time out, one stays with the kids for a rest and the other goes to the lounge/bar for an adult beverage. It's completely ok to not spend every single minute of your family vacation together.
Another option for a break at your resort is to just explore it. There are activities posted in the lobbies for events happening throughout the day. Or you can just take a tour on your own and see what you discover.
No matter how many times we've stayed at a resort, we always find new things to explore and see. Take a stroll with no time line and see what you find or who you meet along the way.
You might even find a place for a snack.
And the last tip I have for break time when traveling with young kids is to do bath time during your break. The way I recommend touring the parks, you go more fast paced during the day and a little slower more relaxed in the evenings. This way the kids get their baths in and when they crash out on the way home, it's ok to just put them into their bed dreaming of the magic they experienced for the day.
Where do you like to take a break? Come over and share it on facebook.