I rarely get controversial on this blog. I want it to be a source of information and sharing in the love of Disney. I read post after post yesterday though about how Disney disappointed thousands of people with how the release of Free Disney Dining happened. I disagree that Disney was the overall problem yesterday. The problem is the culture of entitlement that has been exacerbated by bloggers not fully educating their readers on how a Disney discount works. I hope this post sheds some light on reality when it comes to promotions.
I am going to give you an example to help understand how a Disney discount works. I am going to use Nordstrom as an example because they are a retailer that is all about service and quality much like Disney. I go into Nordstrom and I see a cute red top on the sales rack. I like it and want other colors so I look around. Oh, look, there's a pink one. But it's not marked down? Why? The red one is but the pink one isn't. I want the pink one for the sales price. It's not going to happen. The pink one has a different demand, it's spring time, pink is in season, red was their fall color, there's too many red ones in inventory. That's not Nordstrom's fault the red one is on sale and the pink one isn't. It's purely supply and demand, simple economics. ALL Disney discounts work just like this. I would venture to say that most corporations' discounts work in a way similar to this.
Disney got slammed over and over for inventory restrictions yesterday. A Disney discount has never meant to be an across the board price cut for all rooms. It has always been dictated by the inventory levels and by what demand looks like. This is why some popular bloggers say don't book until a discount is released. I am of the belief that if you are only going to go if a discount is released, then hold off. Otherwise, book on your current budget. In a slower economic time you were more likely to find those standard view, moderate resorts. The reason we have seen a shift from finding moderates available is because now we have more moderates that can sleep families of five and those rooms are in demand for families. It is no surprise we couldn't find resorts that slept five in that category. They don't need any help selling those, they go fast at full price because even at full price they are cheaper than families having to do two rooms or a deluxe option.
Now let's move on to the other claims made. My favorite was by a popular blogger that slammed Disney for their secrecy. Well clearly the promotion wasn't that secret because this same blogger was shouting it from the roof tops all last week and into the weekend even leading into the late hours of Sunday night. I don't understand how anyone who contributed to the Free Disney Dining frenzy can then slam Disney because it was so popular, sites crashed. Oh, and now would be a good time to mention that many parts of the "rumor" were wrong up until the last hour.
I read claims that travel agents are just rebooking their clients at Universal. I am a travel agent, you can read that on my bio. I am going to tell you that any travel agent that is pushing their own booking agenda and not what is best for your family is not working in your best interest. It is infuriating for those of us that are true travel professionals to have someone who is connected with a travel agent to  suggest our industry is so fickle that we would change brand loyalties because of EXPECTED limited inventory. There were definitely some Minion memes floating around because they were funny, not because they were true. When a travel agent recommends a destination it is because that is what is best for the client, to suggest anything less is a slam to our profession.
The only claim that had any merit yesterday was the fact that there were technological difficulties on Disney's end. One was to be expected with the websites and the other with the phone lines was not expected. The websites on both the travel agent side and the consumer side had a huge improvement made in recent weeks and with all improvements to the coding, high traffic is going to reveal any vulnerabilities. This was expected. Frankly, the websites held up a lot longer than I could have hoped for and I was pleased with how well it worked, until it didn't. The phone lines were a total mess and whomever is in charge of those probably had a very difficult day yesterday. The phone agents didn't deserve the situation they were put in. As a travel agent these were frustrating no doubt. And as a travel agent, I have plenty of channels in which to communicate those frustrations constructively to the people who can improve the systems. To imply Disney wasn't listening to the travel agents shows how out of touch people are. The reality is if the consumer side had not been affected, there would have been little reported outside of the travel agency world on this matter. On the plus side, A LOT of consumers now know how hard travel agents work on Disney discount release days.
So let's tally this up:
Limited inventory for less expensive room categories- expected
Free Disney Dining frenzy generated by bloggers- expected
Website technological issues- expected
Phone Issues-Most TAs expect long wait times but overall these issues were NOT expected and totally much worse than normal
Switching people to Universal-Ridiculous claim that is degrading to travel professionals.
Consumers understand how hard Travel Agents work- BONUS
Overall, my agency's clients weren't disappointed. The people disappointed were the people who don't understand how the discounts work and who book based on the guarantee of a discount. I always tell clients I will rebook them if a discount becomes available but I do not promise a discount. It is so important to book based on your CURRENT budget, not a what if budget. Then *IF* a discount is released and it is a room category you want, you can always upgrade. It is a much better approach overall in my opinion and the bloggers who recommend this should be commended. The ones who added to the disappointed masses yesterday should share some of the responsibility of that disappointment.
Overall Disney is still where my family prefers to vacation and some technological frustrations don't negate the magicalness that is Disney. Disney has some work to do on the technological front, but the brunt of the sad Mickeys floating around the web goes to bloggers who have failed to properly report how discounts work and have created a culture of entitlement in the process. Disney is by far the best bang for your buck when it comes to family entertainment and overall experience. A discount is a perk, a nice add on, but even without one, Disney offers so much to families.
These smiles right here are why we will go over and over again.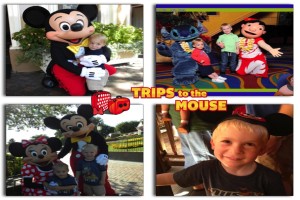 *These opinions are my own. They do not represent Disney, Trips To The Mouse, or any other entity.