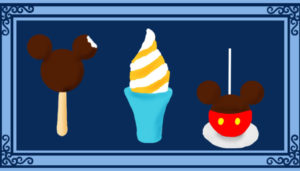 I recently had a client ask if I could make any recommendations the top Walt Disney World snacks. They wanted to splurge and get a few every day to share. Though I managed to be more professional in my email back to her, my in-person response would have been "Girl, do I!!"
I consider myself and my family "snack connoisseurs," though I don't know that this is a particularly flattering description of us. Our favorite park is Epcot, which is a veritable smorgasbord of deliciousness, and the snack options are part of the reason we love it so much. Who doesn't want to travel around the world and eat themselves silly?
It is in this spirit that I present my top five (yes, I know – it was hard to pare them down!) Walt Disney World Snacks: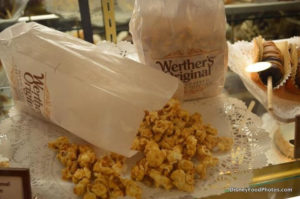 5. Werther's Caramel Popcorn
Sweet and salty? It's right up my alley. You really can't go wrong with popcorn of any kind at Disney World, but if you're a caramel fan, the caramel corn at Karamell Kuche at Epcot's Germany pavilion is where it's at. While you're there, grab a Mickey rice krispy treat dipped in caramel and milk chocolate, or a pecan caramel cluster.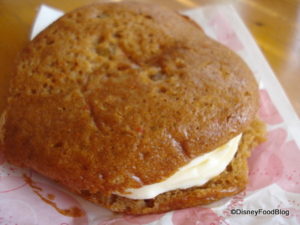 4. Carrot Cake Cookie
This cult favorite used to be "the snack to have" at the Writer's Stop café in Hollywood Studios, but since the café's closing, you can find it at Sweet Spells right down the road. Two HUGE delicious carrot cake cookies sandwich a massive layer of cream cheese frosting. And since it has carrots in it, it's good for you, right?! (photo credit: The Disney Food Blog)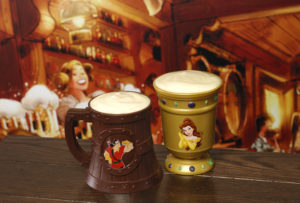 3. LeFou's Brew
If you're a big Beauty and the Beast fan like I am, just the experience of stepping into Gaston's Tavern, located in Fantasyland in Magic Kingdom, is a dream come true. He uses antlers in all of his decorating – seriously! There are plenty of delicious snacks to be had at this unique snack counter (pork shank, giant cinnamon rolls, oh my!) but the winner is LeFou's Brew, an apple/marshmallow/passion fruit combo of a drink that will blow your mind. Sound weird? Just trust me and try it out! (photo credit: The Disney Parks Blog )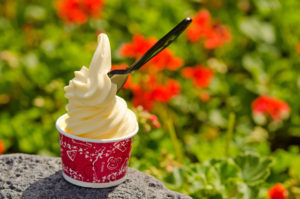 2. Dole Whip
To not set off the ire of the Dole Whip diehards out there (you know who you are!), I will explain that there are times that this would rank #1 for me. Who wouldn't like pineapple ice cream? There are many variations of this treat – with and without alcohol, with and without pineapple juice, etc. – and they're all delicious. But my favorite is at Pineapple Lanai at the Polynesian Resort. Pineapple and vanilla soft serve swirled together to perfection-yum!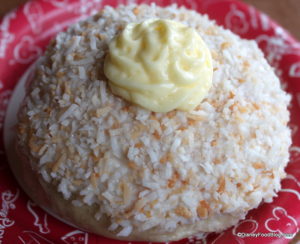 1. School Bread
The cardamom bun. The vanilla icing and toasted coconut drizzled over the top. That slightly lemon-y dollop of pudding cream. Oh, how I could wax poetic on the deliciousness of this Norwegian treat. My family likes to get one to share while visiting the Norway pavilion at Epcot, and several to eat for breakfast the next day when we're on our way out. I literally dream about this treat when it's been too long since my last visit! (photo credit: The Disney Food Blog)
There you are – my top 5 treats you must experience your next trip to Walt Disney World. What would you add to the list?
This post is brought to you by Laura Wright, a travel advisor with Trips To The Mouse. If you would like Laura to help you with all of your Disney vacation needs, email her here or request a quote here.
Laura "I am an avid traveler – to Disney and beyond! (read that in Buzz Lightyear's voice and you've got the right idea!) My daughters, husband and I have taken four Disney trips in the last five years, as well as journeyed in an RV for six months across the Western United States. My favorite rides at Disney World are Space Mountain, Peter Pan (I get chill bumps every time we fly over London!), and Star Tours. The Polynesian Village Resort is my absolute favorite place to stay, especially because there's unlimited Dole Whip!"