Hi Disney friends, Today we are going on a speciality cruise at Disney. You have the option to do one near the Magic Kingdom or near Epcot. I have clients who have done both but I have only done the one near Magic Kingdom personally. These are a great option to book for a special celebration or just as a way to do something fun without the crowds. Disney's fine print will say that the fireworks are not guaranteed to be seen from the boat. They have to say that because they can't control the weather, clouds, etc and there are rare cases where there's no fireworks at Disney for a night.(I've never experienced that personally). In most cases, you will see Wishes(pictured below on the left compliments of www.allears.net )or Illuminations(pictured below on the right).
You can depart from The Contemporary, The Grand Floridian, The Polynesian, or The Wilderness Lodge for the one that will see Wishes. You depart from the Yacht and Beach Club for the Illuminations Cruise.
If fireworks are scheduled for 9pm, you will meet at the boat dock at 8pm and be ready to depart at 8:30pm. You are usually on the boat for about an hour or so. Included in the price is your boat captain and snacks, sodas, and waters. You can order extra snacks/beverages like beer and wine from Private Dining at each of the resorts. It has been my experience that the boat captain is a wealth of information. If you are into Disney trivia or wanting to know how things like the Lagoon were made, etc, your captain will share all of this with you. You can also ask questions. It is really a cool experience just for that aspect alone. Then your captain positions the boat just right and you have the most incredible view of Wishes or Illuminations. It's amazing. You do not have the Wishes music piped in but you can usually hear the Illuminations music from your boat.
These cruises can be romantic for a party of two or family oriented with up to ten people. It is good for all ages. Life jackets are provided for the children. We did ours in December which is why we are bundled up. It was definitely cold the night we went out but it was still a great time.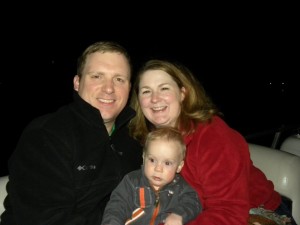 For the Wishes departures the price is going to range from $292 – $346 plus tax. For the Illuminations departure it is going to be $325 plus tax. These prices do change periodically. Gratuity is not included and I would strongly recommend that you tip your captain. They really do go above and beyond in my opinion. To book one of these you call 407-WDW-PLAY OR if you are booked with me, I can take care of this for you.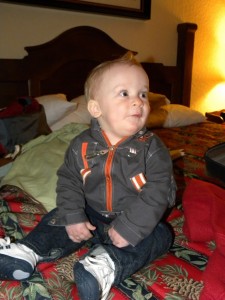 Mama, that was so cool! Please take me on a fireworks cruise again!