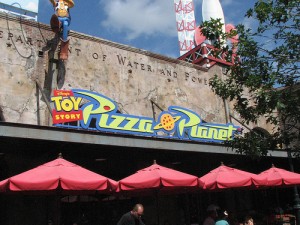 Today I am taking you to Pizza Planet for lunch! Try to go outside of the peak dining times if possible as it can get crowded. As expected, they serve pizza here. In all reality, the food is not the reason you go to Pizza Planet. The kids are going to love the pizza. For those of you that are pizza snobs-you are not going to think it's anything special. It is on par with any pizza delivery place out there.
Here's a snapshot of the menu: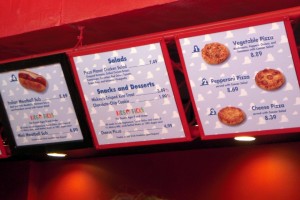 You go for the theme. If your kids(or even you grownups) are die hard Toy Story fans, you have to dine here. It is like stepping into Pizza Planet from the movie. You will see your favorite Toy Story characters decorating the walls in bright colors. First things first, after you order, head upstairs to eat. That's the only way your kids are actually going to eat anything. You can also grab a table outside but for most days, inside upstairs will be a nice cool spot. (photo courtesy of our friends over at
Disney Food Blog
)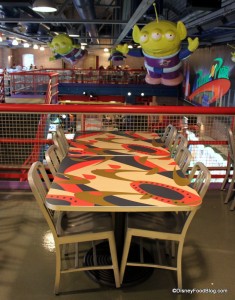 Then turn them loose in the arcade. There are plenty of games to choose from for everyone in the family. When you go here, allow time in your schedule to play or you are going to have some disappointed kiddos and daddies. There are change machines and even an ATM so no chance you can claim you don't have money to do the games.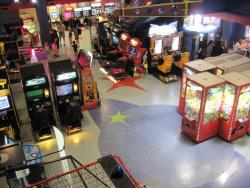 It is loud in here and your ears will probably be buzzing with all of the arcade noises for a bit after you leave. But there's just something special about seeing your kiddo light up because they had lunch at PIZZA PLANET!! And that is the reason I recommend Pizza Planet to my clients.