Today we head to Disneyland to Surf's Up! Breakfast with Mickey and friends. Those of you that follow my blog posts know Walt Disney World is where my heart is most of the time. I am a fan of Disneyland too though and this particular breakfast is one of the best ones in all of Disney! That's huge coming from me to give such an honor to a Disneyland option.
This breakfast takes place at Disney's PCH Grill at Paradise Pier, one of Disney's resorts. Breakfast is served most days from 7-11 AM.
First you are greeted by Mickey Mouse. He does not make the rounds to the tables but you do get quite a bit of time upon your greeting with him and of course the photo op as well.
Then it's on to the breakfast buffet. I love that this buffet has an Omelet station and of course all the yummy meat accompaniments from bacon to multiple kinds of sausage. There are Mickey waffles here too! And Mickey Pancakes! You can't go wrong with the Grilled Peanut Butter and Banana with Chocolate Stuffed French Toast either. You certainly will not go hungry on this buffet.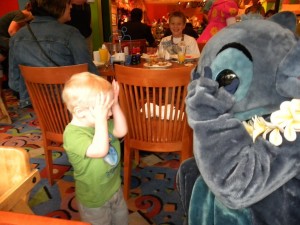 Who will you see at this breakfast? We've covered Mickey already. You will also see Minnie Mouse, Stitch, Pluto and Goofy. We've also seen Daisy but she's not usually in the line up here. They will come to your table for a greet and photo op.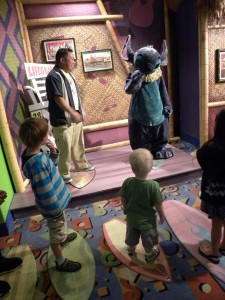 What really sets this character meal apart from some of the others is the interactive aspect. Throughout the meal the kids get to go up and dance with the characters, learn to surf, and have an all around great time! While we certainly got some great photos, this is not the time for the one on one photos. Please be respectful of all the children and save those for your table's turn.
So what do you think, Yay or Nay to the Surf's Up Breakfast?