I promise there is a bit if Disney in this post if you hang in there with me. If you know that phrase, you know what this post is about. Kidd Kraddick passed away this weekend. He was a DJ in Dallas but his show was heard in other cities. He was so much more than just a DJ though. I grew up listening to Kidd back when he had a show on at night. When he went to KISS FM I was in high school. I drove 30 miles to school every morning and the only show I listened to was Kidd Kraddick's. I stayed in Dallas for college and continued to listen to him, then post college he was my companion on the way to work every day until I moved to Austin. It was actually really hard not being able to listen to his show on the commutes here in Austin especially when I was so homesick. I was ecstatic when the show was syndicated and aired here though I am sure some of the Dallas humor was lost on some parts of the nation. I remember when Jocelyn White left the show and Kelly Rasberry came on board. She took some warming up to but it's hard to picture Kidd without her now. So you get it, I listened to him a huge portion of my life. I eventually stopped commuting and stopped listening but the news of him passing away struck a nerve.
I only had the pleasure of meeting him a few times personally but listening to him you really got to know who he was. He loved his family, especially his daughter. He was real when he got a divorce and owned it and his mistakes. The thing that was evident though was he knew he was meant to be part of something bigger than just himself. Radio personalities have egos no doubt, and Kidd did too but he used his for good. He founded Kidd's Foundation that is the charity that sponsors Kidd's Kids. They are like a home grown Make a Wish Foundation but better in my opinion. They send terminally ill kids to Disney World. I loved hearing about the trips on the show. They would charter a plane(eventually www.southwest.com jumped on board as a sponsor) and load it up with as many families as they could and off to the most Magical Place on Earth they went! Kidd went too and he had so much fun with these kids. He gave them the opportunity to just be a kid and have fun with their families.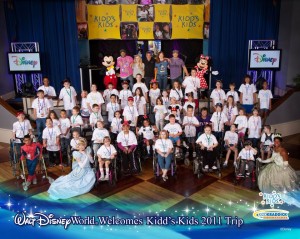 In his own words :
I founded Kidd's Kids in 1991 with the hope of making a difference in the lives of terminally and chronically ill children. Each year, Kidd's Kids offers five amazing days of suspended reality to children whose lives have been ravaged by disease. Kidd's Kids children and their families are given the chance to experience the exuberance of being "normal." That is the gift that you and I can offer by supporting the Kidd's Kids organization.

Signed,

Kidd Kraddick


I know Kidd touched so many lives. He helped so many children and families experience a trip of a lifetime. He also was a constant in so many lives. He was funny but not mean. He respected people and himself. Kidd really cared about his listeners. He cared about his colleagues. He was so much bigger than just a morning radio show. There are a lot of lonely people in this world and he made them less lonely. There are people hurting every day and he made them smile. His voice will be missed. I have never been so attached to a morning show in the way I was to Kidd Kraddick In The Morning.
If you share my sentiments, please consider donating to Kidd's Kids. All of the words in the world won't bring Kidd back but his charity can live on and do the big things it is intended to do. You can text KIDD to 52000 to donate $10 and the funds go straight to Kidd's Kids. The 2013 trip is going forward and the publicized plan is the foundation will continue on. I think this is the biggest way you can thank Kidd for being there in your life and making you smile.
You know I love Disney and think every trip is magical but there is really something special about the trips for kids that are dealing with so many health concerns and physical barriers. It is a real escape from reality. I feel beyond blessed that I get to help people every day make their Disney dreams come true but this organization makes dreams on a much bigger scale come true.
You can check out the actual donate site here but do know the website has been up and down today. http://www.kiddskids.com/donate/text-to-donate/ or you can also check out their facebook page here https://www.facebook.com/kiddskids .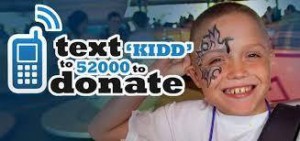 Keep looking up, cause that's where it all is.