I was honored when our family was selected to host another #DisneySide @Home Celebration this year! I think all of our friends were as excited as we were! At first, I considered keeping it small but as you guys know I am incapable of a small gathering. It is just too hard to limit our guest list. So we went all in and threw the best party we could! We had over 120 people who all had a blast. We had a lot of help from some incredible businesses and of course the party would have not been possible without Disney! All of the photos you see below are courtesy of Emily Cannata Photography. She is truly gifted with children and adults. She captures the moment in such a real way that I love. She has done photos for us with our kids as Jedis and it remains to be some of my all time favorite photos ever of our children. We also added a twist this year and decided to help Austin Diaper Bank with a diaper drive. Every pack of diapers gave people another chance to enter the raffle drawings. It was a win win for all! The Raffle Table was full of prizes once again. Most of these were courtesy of our hostess kit. Wonderful companies like All, HP, Duff, and Twinings to name a few. I supplemented with a few items from the Disney Store Online also.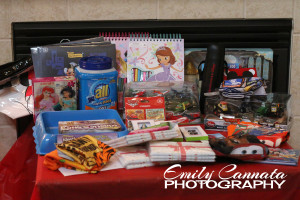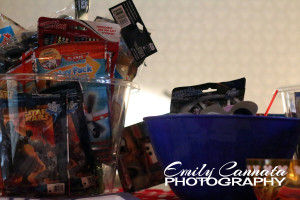 Our theme was Cars this year. We tried to recreate Radiator Springs from Disneyland for our guests to experience! As you entered, there was a welcome race track leading the way. Then in the entry room there was all kinds of information dedicated to the Disney Destinations: Disneyland, Walt Disney World, The Disney Cruise Line, Aulani, and Adventures by Disney. It seems a lot of people were interested in the Disneyland 60th Celebration this year and Aulani! Then the guests saw the make your own party favor bag. The table was filled with stickers, Disney Play Packs, Star Wars goodies, bags, and of course the most adorable Cars inspired hair clips from OMG Adorable!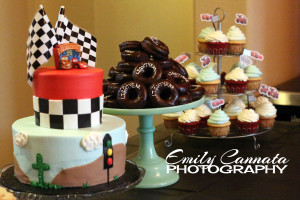 One of the biggest hits of the party were the sweet treats provided for by Freestyle Baking Company! Jenny is creative beyond belief. She came up with three desserts. I think we can all agree, the donut cakes that looked like tires was the overall "winner" of the sweet treats! They were like taking a little bite of heaven and really did look like Luigi's tires! She also created a cake inspired by Carsland. We all know how much kids love their decorate your own cookie and these did not disappoint. And yes, I did save the leftover frosting and might have had a few spoonfuls following the party. Jenny's cakes taste as good as they look. Buttercream is always used which is my favorite. And one of the best parts about using Jenny is that she delivers and does the set up for you! Talk about making the party day easy. She joined us for the event as well but generally she sets up and heads out. I also learned how to cut the tiered cakes properly. I have been doing it wrong for years. You don't remove the top layer first. You make small slices around the outside bottom layer first. This was genius!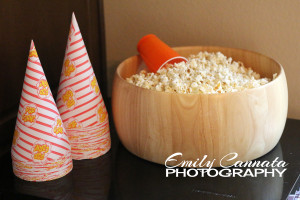 I tried desperately to find a way to serve food in cones just like the Cozy Cones at Carsland. I could not find a cost effective way to do this so I opted for just serving the popcorn in cones instead. It wasn't quite what I wanted but the kids loved it and the cones were still fun.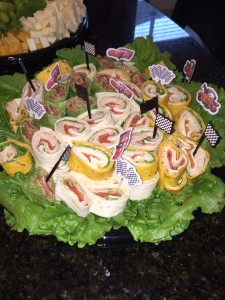 This year instead of doing all the food ourselves, we decided to enlist the help of HEB Catering. Guess what Austinites, they deliver now too! They arrived right on time with the best looking party trays I have seen. I have ordered trays before from HEB and the food is always amazing. I had no idea they would add decorations to your trays if you ask. These came Cars inspired! We had veggies, fruits, a cheese tray, and a wraps tray. More than enough food for all of our guests. The only recommendations I would make when ordering the cheese tray for a kid inspired party is to sub out the speciality cheeses for the colby jack cheese and cheddar cheese.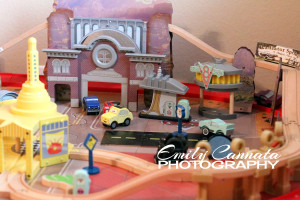 And now for the entertainment we offered. The weather cooperated. We were so worried about rain this day and weren't quite sure what we would do if it did rain but it held off. We cleared out our playroom and only left the Carsland Cars Table. Yes, it is like a train table but with Radiator Springs set up. Snapology of Austin came and entertained the kids, and parents, as well. We intentionally had them come just a little bit after the party. I kid you not, every single child that walked into our house before they were set up started to head directly upstairs first to find the LEGOS. If you haven't had a party with them yet, book it now. They also offer camps and after school workshops.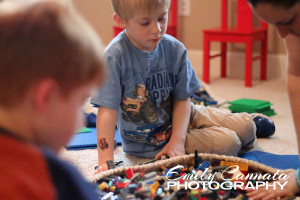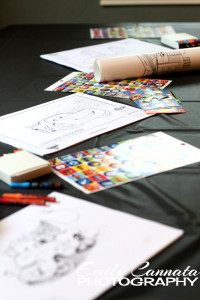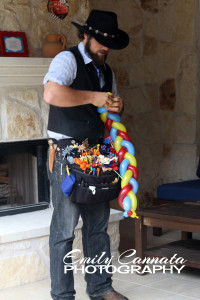 The coloring table was set up inside the kitchen and tattoos were outside. Then came the other big entertainer, the balloon guy! Adam with Entertainment for Everything had even the adults talking! He was recommended by several neighbors and he really blew away my expectations. Let's be real-a lot of balloon and clown type entertainers are a little wacky. Adam was just entertaining! He had the adults laughing and the kids lined up constantly. Weeks later, we still have a balloon octopus he made floating around. He throws in a little magic while kids are waiting and is funny. The kids also played outside on the playscape and ran around.
It wouldn't be a #DisneySide party without the photobooth from Say Cheese. We did move this to the garage in anticipation of rain. I was worried about the location but Jenny helped by sending people out that way. Kids and adults love the Say Cheese Photobooth. They come and do the set up for you and they provide the fun props! They also let you adjust the size of prints and everything. Super fun! Their team is so professional and their quality of photos that their photobooth generates is the best I have seen.
Our guests all showed their #DisneySide too!
While we did have a lot of similar things as our last year's party, the theme of Cars was new and really cool to get to explore and go with! Now, if the powers that be are reading, the kids have asked if there could be a Star Wars themed #DisneySide Party next year! I have a feeling they are already planning such an event in their heads. I also may be creating little party planning monsters by going all out for our #DisneySide party but these smiles are totally worth it! This was certainly the party of the year for us. Check out the #DisneySide, #MainStreetTales, and #TripsToTheMouse for more pictures and fun on any social media site.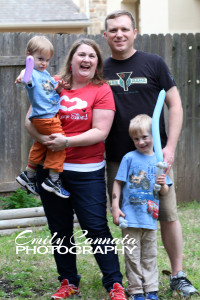 *As a #DisneySide @Home Celebration Hostess, I did receive a party hostess kit. I opted to share almost everything in the kit with our party attendees. The reviews and opinions in this post are my own.
Below is a list of our major sponsors. Please show them some love and like their facebook pages!