Hi Mamas, This past week I was fortunate enough to visit Disneyland. We stayed at Disney's Grand Californian Hotel & Spa. This was our first stay at this resort and it did not disappoint. I will review a few of the key elements. You expect excellence from Disney and this resort delivered in every way. I am a hard person to please too and to give a review so glowingly says a lot!
Staff- The staff was amazing at this resort as in over the top amazing. Upon check in, our youngest son was presented with an autographed photo of Mickey because it was his first visit. We arrived later in the day so the room was ready. Our room request was granted as well. We had asked for the room configuration of a queen bed and bunk beds so our littlest one could sleep on the trundle and not need a crib. Every cast member we encountered at the resort was friendly and genuinely helpful from the restaurant to the pool to the cast members in the lobby. Bell Services delivered our luggage promptly and also found the rental stroller that had been delivered for us earlier in the day. We had one small issue with our room cards and they gave us complimentary vouchers for a character meal for our trouble. They really outdid themselves. Our Mousekeeper in the evenings was exceptionally remarkable. We left a note that we had not received a towel animal and every day our children would look for one when we returned. When we came home this is what we found in our room and they were beside themselves happy over it!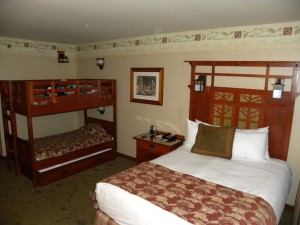 You might see a little person hiding in this picture.
The excitement over the bunk beds was just too much to handle!
Room-The room was mostly exactly what we expected. It was spacious as a deluxe resort should be. It was definitely well maintained. The theme was rustic great outdoors theme to it. There's a lot of wood finishings throughout. The vanity was outside of the main bathroom which is especially helpful when traveling with children. The only two things I would have changed about the room was the tv should have been in front of the main bed not the bunk beds. And there was a mirror that was crooked and it bugged the OCD side of me a great deal.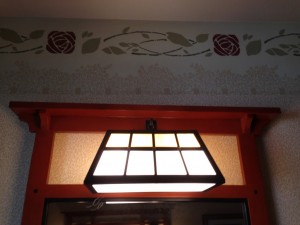 See crooked! I couldn't get a full on picture
because it was a mirror but you get the idea.
Seriously, these are the only two nitpicky things I could find wrong. Our room location couldn't be better. We were as close to the entrance of Disney California Adventure as you could be and also near the pool and restaurants.
Pool-Our kids loved the main pool! It had a water slide that did not have a height or age restriction. We did put a life jacket on our oldest and he had a blast going down the slide. There was a smaller water slide for our youngest. The lifeguards were extremely friendly and engaging as well. One of them saw our oldest eyeing the slide and we had assumed he wasn't tall enough as he's not for most of the ones at Walt Disney World. She let us know right away he could do it.
Location-We have always stayed at a Disney property while at Disneyland but this was our first time at this resort. It was by far the best location. Until staying here, I really didn't think the extra 5-10 minutes saved made that big of a difference but it really did. You felt like you were staying right inside the park it was so close. The entrance was especially helpful when getting to Carsland for Extra Magic Hours.
The only true negative that we experienced was due to a scheduled maintenance. The water was turned off for about six hours. We were given plenty of notice(at check in) but the water was shut off at 11PM on a night the parks were open until 11PM. That was a rough turn around to get home and get the kids bathed before the water was shut off. We got back to the room at 10:30 and promptly at 11 the water was off. Given that day the park was open late and the rest of the week it wasn't, they should have either turned it off later or waited a day for the maintenance. On the plus side, I have never been given that kind of notice for a maintenance issue and that was very helpful.
Storyteller's Cafe-This is the casual dining option on site. We had dinner one evening here and enjoyed the character breakfast with Chip & Dale one morning. Both experiences were fantastic and deserver their own review. I would definitely recommend either option for anyone staying there.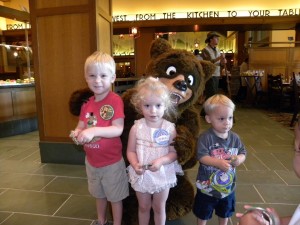 The boys made a few new friends too!
Overall my family gives this resort two thumbs up! It will definitely be a place we stay in the future. We still like the other two Disney resorts as well but Disney's Grand Californian Hotel & Spa has quickly become our favorite. I would love to stay in a villa here but they get booked fast by the DVC members.