I am thrilled to be one of the blogs asked to be a part of this Disney Fans giveaway because it is all brands and things I love!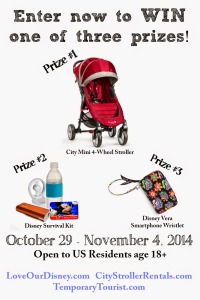 First up- City Strollers! Those of you who have gone to Disneyland know they are my preferred choice of vendors to rent a stroller from. They are always on time, clean, and super friendly! And of course they rent my favorite stroller- The City Mini! In the giveaway they are GIVING AWAY a four wheel City Mini! We own one and it is the best stroller there is in my opinion.
Second place prize is a Disney Survival Kit!  This prize includes a $50 Disney gift card(remember those can be used anywhere at the parks and online!), a Copca Hydra Bottle, a personal fan, and my favorite part of this kit, a Jackery Bar Charger. I have to carry a portable charger for my devices at the parks. This is especially true at Walt Disney World now that the app is so critical!
Third place prize is a Vera Bradley wristlet. Love the wristlets!
These prizes are brought to you by City Strollers, Love Our Disney, and Temporary Tourist!  These are all great resources and also great friends of Main Street Tales!
Enter here!