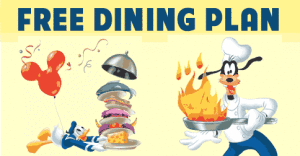 While other blogs are anxious to report rumors, we hold off until Disney announces an offer. There's no reason to get all excited over what may come to be. BUT NOW DISNEY FREE DINING 2015 IS HERE!!!  We are as excited as you are! When you use Trips To The Mouse as your travel agent, they have you covered on all offers so you don't have to worry about the rumors. You sleep in and know they are hard at work for you!
The Disney free dining offer has a few twists this year. The first is the requirement you must have a park hopper or a water park & more park ticket for your stay. Excluded hotels are: Disney's Polynesian Villas & Bungalows, The Villas at Disney's Grand Floridian Resort & Spa, Bay Lake Tower at Disney's Contemporary Resort, Disney's Art of Animation Resort(only the Little Mermaid rooms), campsites, and all 3-bedroom villas. There appears to be limited availability and possibly exclusions for Disney's Port Orleans French Quarter and Riverside as well as Disney's All Star Movies as well. For value resorts you will receive the quick service dining plan and for moderates and deluxes you will receive the plus dining plan. You can upgrade as well if you want to go from the quick service to the plus or from the plus to the deluxe. It is reported you must have a six night stay but that has yet to be confirmed if it is being enforced. Honestly, we can't imagine staying less than six nights anyhow so of course that's a non-issue.
The promotion is for most nights arriving:
August 28-October 2, 2015
October 25-31, 2015
November 8-November 19, 2015
December 15-December 21, 2015
The availability for this promotion is extremely limited. We encourage you to complete a quote request form Trips To The Mouse  and include as much information as you can so they can secure a courtesy hold on your booking. Please include all names of the travelers as well as the children's ages and your preferred resort and dates. Remember when you book with Trips To The Mouse  you get so much more service. They handle your dining reservations, your fast passes, and provide you with a custom itinerary.
Happy Monday everyone! Where will you be staying for Disney Free Dining 2015?