Today I am interviewing a special guest to tell you all about his favorite ride! My three almost four year old, Mason, loves Big Thunder Mountain Railroad. He was finally tall enough(40 inches) to ride this in January. I asked him a few questions to help share with you what is so great about this attraction.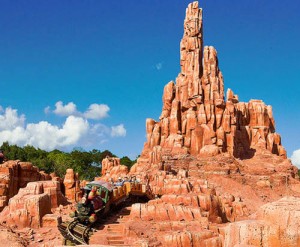 Mason's favorite picture of the BTMR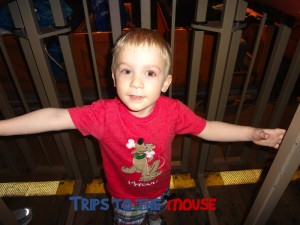 Waiting for the very last car
What were you thinking while you waited to ride this for the first time? M: " I wanted to hurry up and get on the ride!"
What was the ride like? M: "It was like a choo choo! It went fast. "
Were you scared? M: "NOOO! I loved it! I wanted to ride again and again!" (and he did ride it again and again! )
What did you say when you got off the ride? M: "I love you roller coaster!"
What questions do you think mommy's readers might have about the ride? M: "Does Billy the Goat really talk?"
Well there you have it-Big Thunder Mountain Railroad from a 3 year old's perspective!
Mason didn't get to do the interactive queue because we did Rider Switch Passes. If you do have to wait in the regular line, touch everything that looks like you shouldn't. Trust me!
And as far as whether or not Billy the Goat really talks, you just have to ride to find out but I will tell you he was freed and got his Mouse Ears! He's back at the ride now.
Want to see more of Mason's Disney adventures? Follow along on facebook.