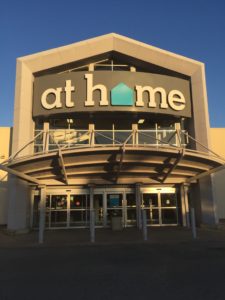 I am sure you have all seen the Halloween tradition of being boo'ed where a friend or neighbor places a sweet note and a Halloween treat on your front porch. This year the At Home stores took things to a whole new level! We were able to shop and choose Halloween decorations to then boo someone special.
I have shopped at the At Home stores but it was the first visit for my four year old. To say he was entertained was an understatement.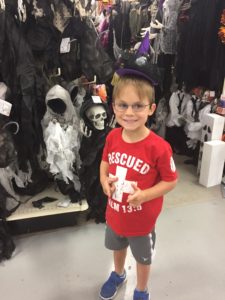 I admit to being home decor challenged. I loved how their displays could be 100% replicated in your home!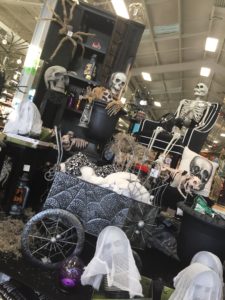 First our mission was to find Halloween decorations. There were so many to choose from!
Our kids are obsessed with inflatables. Our front yard at Christmas has more than any one family needs. Naturally the largest inflatable that we could find was chosen. And there might have been a sneak peak at the Christmas options for us as well! (don't tell Mickey on us)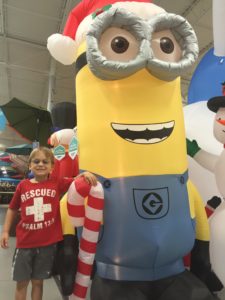 And our four year old has a sense of humor and selected the largest wine glass he could find for the mom in the family!
While there I couldn't pass up a few items for our mantle for fall.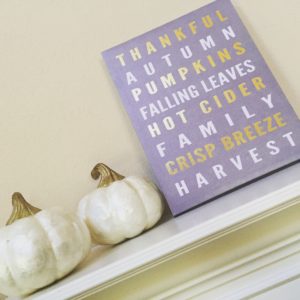 The next day I felt a little like a weirdo trying to figure out when our friends would not be home. I chose this family because the parents are in a high stress field during the election cycle and I knew they had not had time to decorate for Halloween. I knew their boys would love it also!  We went as a family and got to work hoping they didn't come home from their baseball game early. Surprisingly their neighbors didn't seem to think it was odd that we were in their yard putting decorations out.
I did give her a hint that I would love a video when they saw the surprise I dropped off for them. I don't think she was expecting this!
Have you been to an At Home store? If not, you should go! They make decorating for the holidays easy, but they also have home decor options for any style, including my simplistic tastes.
This was a sponsored post. My opinions were my own.