Friends, you already know that Beauty and the Beast is my favorite Disney movie brought to life. I absolutely adore the message in it and the kind of princess that Belle represents. You can imagine my glee over Broadway Across America bringing the musical, Beauty and the Beast, to Austin then! The performance runs October 7-12, 2014 at Bass Concert Hall. I have had the pleasure of seeing Beauty and the Beast on Broadway. It remains the best performance of all time that I have seen live.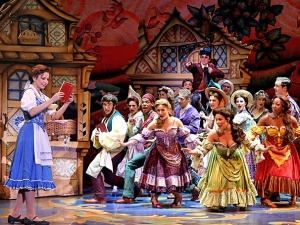 In case you haven't been indoctrinated into all things magical, the musical is based on fairytale of     Beauty and the Beast. The Beast is actually a prince that has had a spell cast upon him. He will remain a Beast unless he can learn to love and be loved. His castle is full of servants who have been transformed into household objects, my personal favorite is Lumiere, the lively candlestick holder.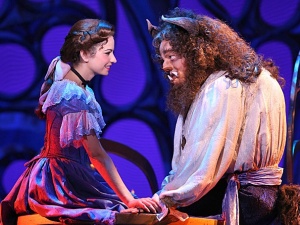 Belle softens his heart and a friendship emerges. If you haven't seen the famous Disney movie from the early 90s or read the story, I won't ruin the outcome for you. Belle is a great daughter and loves her father as much as she loves her books. This makes her so different than a lot of the Disney princesses. There's naturally a villian, Gaston who wants to marry Belle.
The imagery and costumes made the production on Broadway. I am looking forward to seeing how they have updated these for this production. Here's a sneak peak video from behind the scenes for you. It is mentioned that they added a few completely new choreographed numbers to the show. There will be some of the favorite songs from the movie as well incorporated into the production.
The show, directed by Rob Roth, stars Jillian Butterfield as Belle, Ryan Everett Wood as the Beast, Cameron Bond as Gaston, Patrick Pevehouse as Lumiere, Emily Jewell as Mrs. Potts and Samuel Shurtleff as Cogsworth.
I have yet to see anything less than an incredible performance at Bass by Broadway Across America.  Best part of this particular show is that it is intended to be a show for all ages! There are several weekend day time performances for your early to bed children. And for those of you with older children or children who have later bed times the week day performances have incredible seats available! I am eager to share this performance with my children. The Beauty and the Beast portion was their favorite from Disney On Ice and meeting Belle is always a must do on our trips to Disney!
Beauty and the Beast opens at Bass October 7 and runs through October 12. You can purchase your tickets here.
Go ahead and also mark your calendars for production of Annie, April 21-26th which will surely be a family favorite for you as well!
Be sure to share with me what your favorite part of the production is as I will be doing a recap next week after we see the show live and I would love to include your thoughts! And don't mind me while I continue to sing "Certain as the sun, rising in the east, tale as old as time, song as old as rhyme, Beauty and the Beast. Tale as old as time, song as old as rhyme, Beauty and the Beast."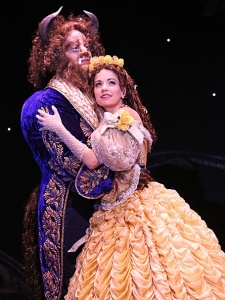 *All photography is courtesy of Broadway Across America and all rights are reserved.